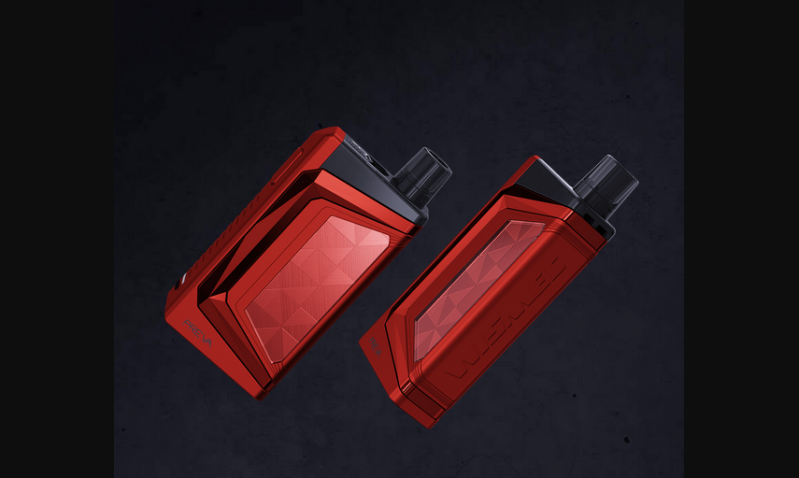 Wismec PREVA POD – Change your mind and remake
Wismec PREVA POD – Change your mind and remake
Wismec PREVA POD – Change your mind and remake
The second in line was the device from Wismec. As you remember, recently I did a review on the almost identical novelty PREVA DNA POD System , however, our hero has only external resemblance to it. The fact is that the developers decided to cut the budget version of AIO, in which they replaced the eminent manager of DNA go, thereby presumably significantly reducing the cost of the product. It is likely this is the right decision, because their device looks pretty cute and should appeal to fans of the brand.
Wismec PREVA POD

Dimensions: 91 x 43 x 18.6mm
Weight: 132g Case
Material: Zinc Alloy + Plastic + Glass
Power: Built-in 1050mAh
Cartridge Capacity: 2.0 / 3.0ml
Evaporator resistance: 0.25 / 0.6Ω
Output power: up to 20W
Operating mode: POWER
Supported resistance: 0.2 – 1.7Ω
Protection: against low / high resistance, from overheating, from short circuit, from overcharge / overdischarge
Connector type: magnetic
Screen / diagonal: no
Micro-USB port / charging: yes, charging current 2A
Color: see photo below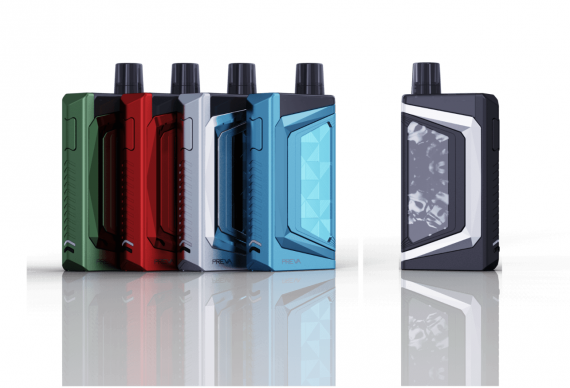 Options
– PREVA mod
– replaceable cartridge (pre-installed)
– replaceable evaporators 2pcs 0.6Ω (one pre-installed)
– USB cable
– user manual
– warranty card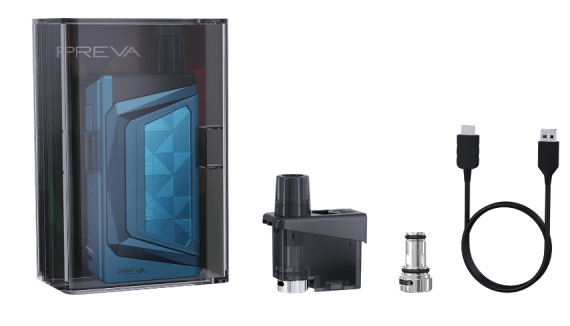 I will not discuss the appearance – I said everything about it in due time. It is quite pleasant, but only the dimensions, although slightly reduced, but this did not "get better". Moreover, the weight of the new product will probably also be decent. Well, and as you wanted – the metal case after all …

It is gratifying that from the start the developers did not limit themselves to only one version, as it was in the predecessor. We get five designs at once, among which there is only one calm, and that one, due to the cheerful panels, can only be called so with a stretch.

However, the developers did not stop at just changing the chipset. What I was perplexed with when testing the DNA version here changed. Of course, I'm talking only about replaceable evaporators, not the whole cartridges. Why not do it right away – it's not clear. As I understand it, cartridges from the forefather can also be used here. However, the set of new items will be two identical, moreover, new replaceable evaporators. By the way, in the second case, the airflow adjustment has moved under the cartridge.

Otherwise, everything is unchanged. Top dressing, the capacity is still 3ml and the same removable 510th drip type will crown the design.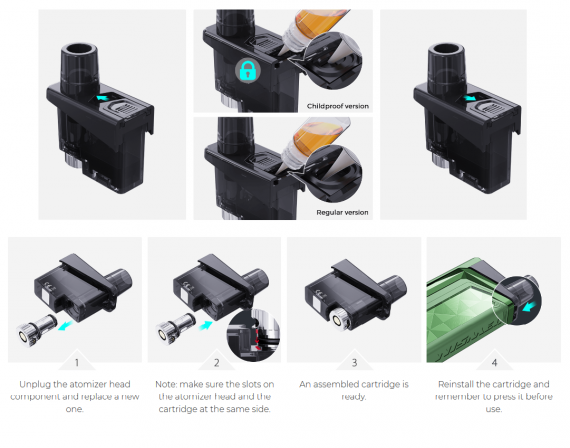 The main body hides a built-in battery of exactly the same capacity. However, its charging current was doubled, therefore, a full charge cycle will last a little more than half an hour. The causal connector probably remained resting at the bottom.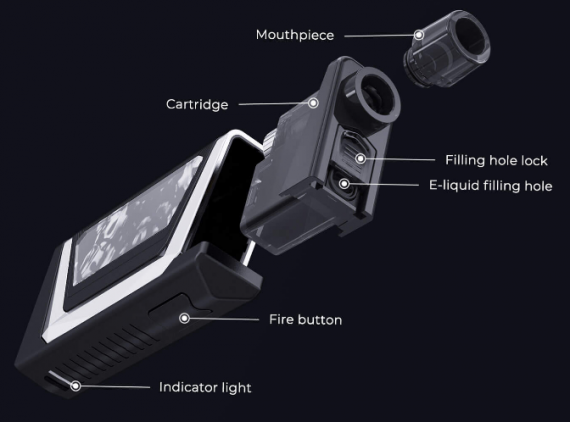 The control panel is identical – a large fire button, under it is the output voltage control key. The developers left all the same three adjustment modes. You can immediately see the LED indicator, which is responsible for the alarm about the selected mode or the remaining battery charge.