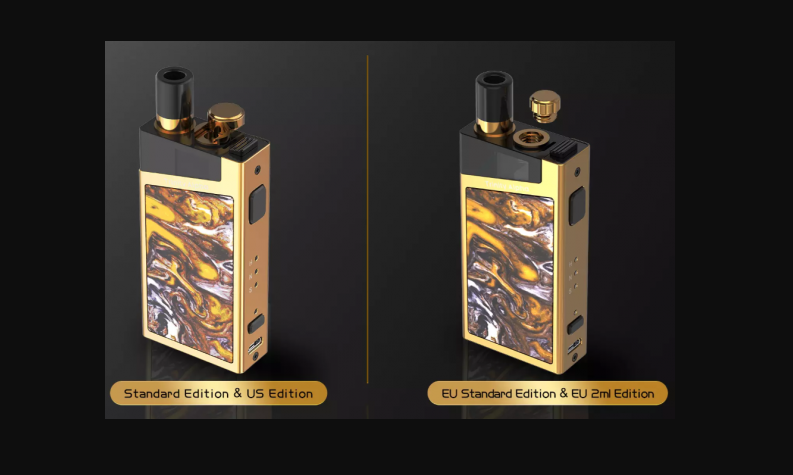 SMOK Trinity Alpha is not new, but deserves attention
SMOK Trinity Alpha is not new, but deserves attention
SMOK Trinity Alpha is not new, but deserves attention
I want to start today with the far from new AIO, however, for obvious reasons, at one time it did not hit the front pages of our news feeds, although it definitely deserves attention. It will be about the device presented by SMOK as early as spring. And I decided to remember it right now, because there was a good reason – they added a new design.
SMOK Trinity Alpha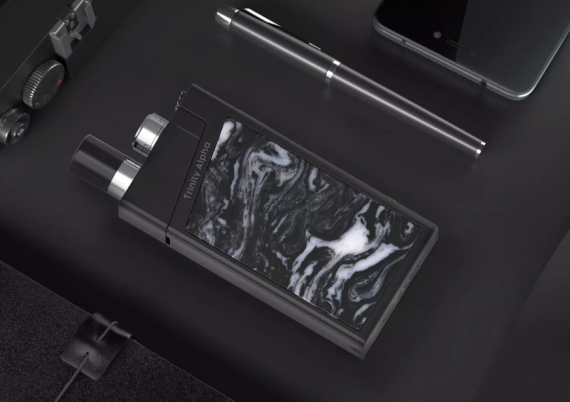 Dimensions: 91 x 36 x 16mm
Weight: 90g
Case Material: Zinc Alloy + Plastic
Power: Built-in 1000mAh
Cartridge Capacity: 2.8ml
Evaporator Resistance: 0.6 / 0.8 / 1.4Ω
Output Power: 10 – 30W
Voltage Range: 2.1 – 4.1 In
operation mode:POWER
Supported resistance: 0.5 – 3.0Ω
Protection: against low / high resistance, from overheating, from short circuit, from overcharge / overdischarge
Connector type: non-magnetic
Screen / diagonal: no
Micro-USB port / charging: yes, charging current 0.7A
Color : see photo below

Package Contents
– Trinity Alpha mod
– replaceable cartridge (pre-installed)
– replaceable evaporators 2pcs 0.6 / 0.8Ω (one pre-installed)
– lanyard
– USB cable
– user manual
– warranty card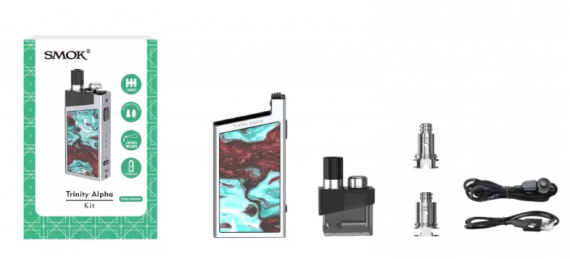 Our guest looks decent – in the spirit of modern traditions. Hackneyed form factor, variegated plastic panels as a decor. Dimensions are not to say that large, but a decent stealth from this little thing is not worth the wait.

The device started in six variations to choose from. But more recently, developers have added several versions of mother of pearl.

Dripe type 510th, naturally you can put your favorite copy here.

The capacity of the cartridge is not bad, moreover, it will be refilled from above. The design for opening the lid varies between versions.

There are two types of replaceable evaporators, however, other versions of the NORD series can be used here.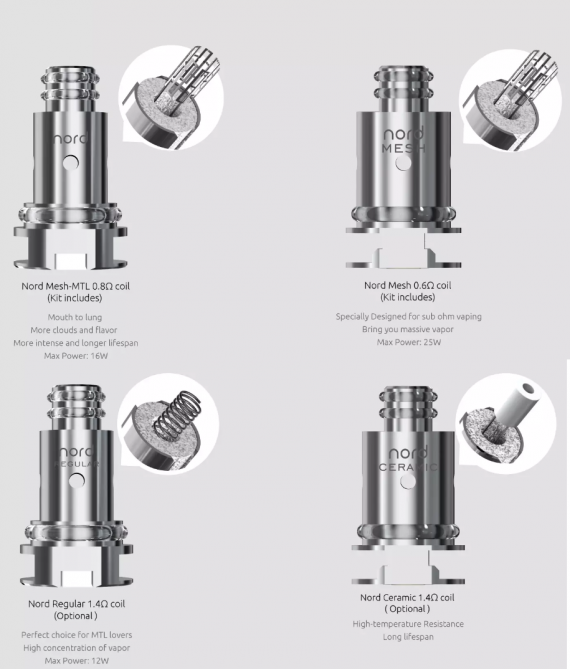 The main body hides inside itself a built-in battery of standard capacity, the charging cycle of which is not particularly fast. The causal connector settled on the front end.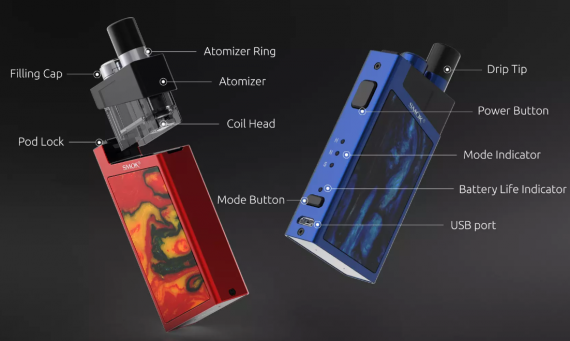 The control panel is assembled at one end. The set is crowned with a small fire button, at the very base there is a small dot of the LED indicator responsible for the selected output voltage mode. In total, there are three such – SOFT / NORM / HARD.

The key for changing the output voltage and a series of LED indicators are located in the center of the panel. The latter, in turn, report the battery level.