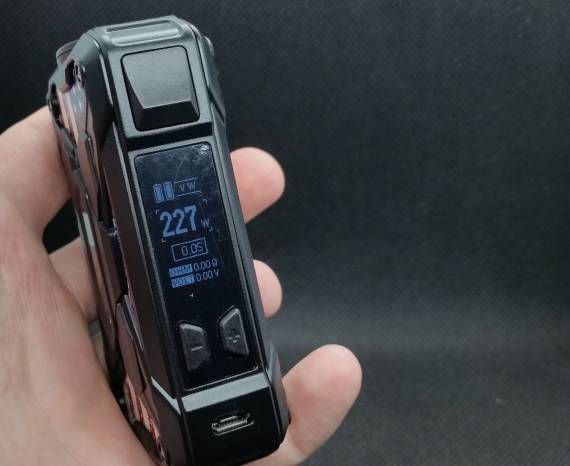 Rincoe Mechman 228W Mesh Kit
Rincoe Mechman 228W Mesh Kit
Rincoe Mechman 228W Mesh Kit
We continue to plow the assortment space of relative newcomers – the Rincoe company. I remember their extreme novelty I liked exactly in terms of quality of performance. Therefore, here I expect absolutely the same level – proceed.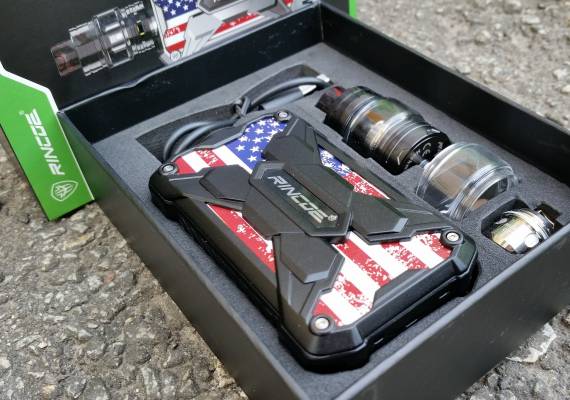 Dimensions: 90 x 56 x 30 mm
Weight: 177 g Case
material: zinc alloy + plastic
Power: 2 x 18650
Output power: 1 – 228 W
Voltage range: up to 8.0
V Peak current: 50 A
Operating mode: POWER, TC (NI200, SS, TI), TCR, BYPASS
Temperature range: 200 ℉ – 600 ℉ / 100 ℃ – 315 ℃
Supported resistance:0.08 – 5.0Ω / TC 0.05 – 3.5Ω
Protection: against low / high resistance, against overheating, against short circuit, against reverse polarity, against overcharging / overdischarge
Connector type: steel 510, pin gold-plated, spring loaded
Screen / diagonal: yes
Micro- USB port / charging: yes, charging current 1.85A
Color: see photo below

Options
– Mechman 228W mod
– Mechman mesh tank
– replaceable evaporators 2pcs 0.2 / 0.25Ω (one preinstalled)
– spare origins
– spare glass
– USB cable
– user manual
– Warranty card

We have already discussed the complete tankso I won't stop there. It can only be said that he is the most ordinary, and for the whale the option is quite normal.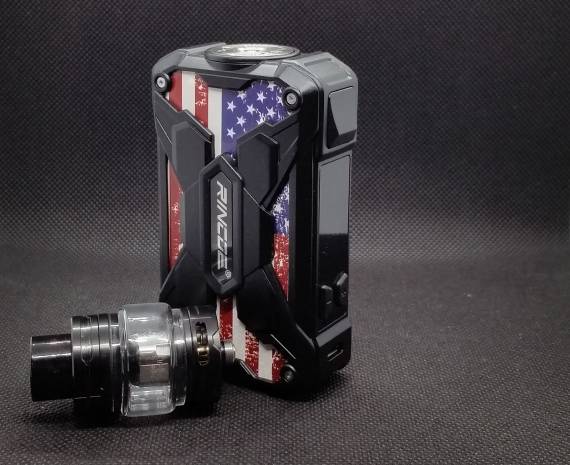 Boxing design is a fashion for an amateur, and would even say a big amateur, but I will not say. For example, I'm not a fan of this kind of decoration at all, but even to me this "war paint" seemed normal and not even too "decorated". Yes, it resembles a spaceship made of cheap fiction, and if it weren't for the American banner on the back, I would even have praised the design. And I will praise, because I know something – about this below.

By the way, the developers proposed just a bunch of design options, and not only the print, but also the "skeleton" is changing, which is much more interesting. By the way, you can replace this print with your own absolutely painlessly – instructions on this subject are available on the official website. Cool – you can stick a photo of your beloved or scan your passport)))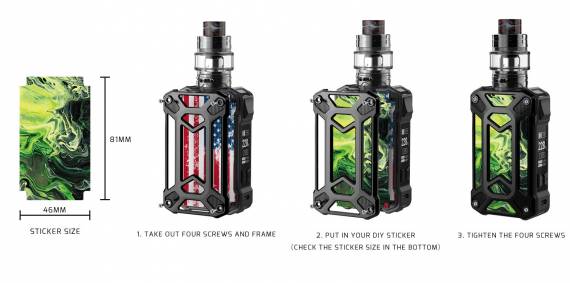 Just a few words about ergonomics. It was not surprising for me, but it is excellent for an instance that is mutilated by various convexities and bulges.
The landing pad is steel, furrows from sticking are available. By the way, it's about stability here – thanks to the special bottom design, it's not one of the best – it is better not to keep it on "soft" surfaces.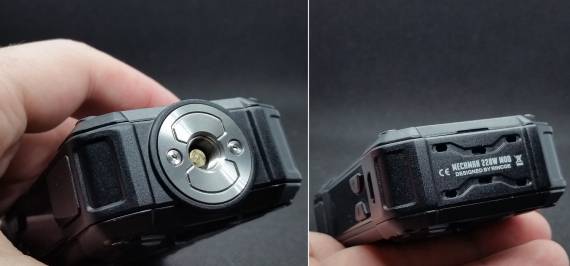 The stock on landing is as if at 24mm, however, the 25mm specimens sit here quite aesthetically. I must admit, the vast majority of atomizers look at boxing fashion quite organically – and this with such a design.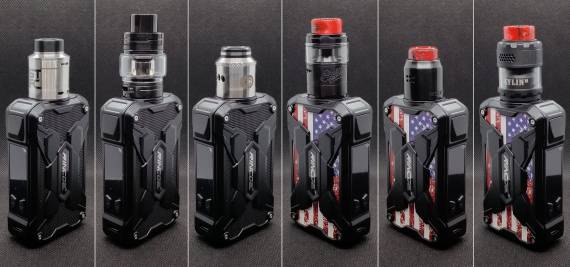 The control panel is well-cut. The buttons are plastic, but the plastic is tactilely nice. The fire is made in the form of a certain trigger, which adds a point to the piggy bank of already good ergonomics. The button move is small, smoothly elastic, the click is barely audible, but clear – these are just five points. Other control keys are a little louder. The display is medium brightness, the information is not overloaded and easy to read. For the street it is a little dull. At the very base of the connector for charging the battery, the declared current is almost observed.

The battery cover is massive, but magnets securely fix it. A groove for convenient prying is available. Naturally, it is a little loose, but only with good compulsory tilting.