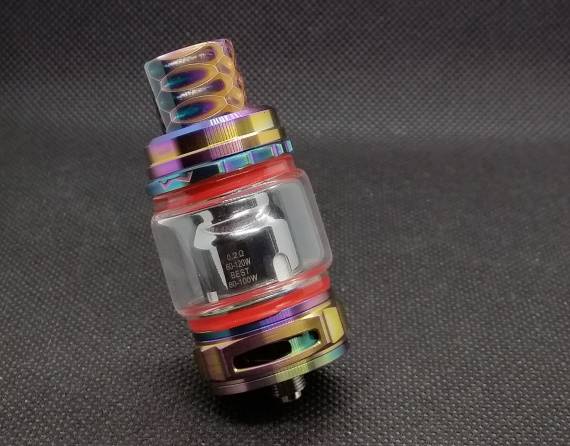 Famovape Magma Box and Vector Tank
Famovape Magma Box and Vector Tank
Famovape Magma Box and Vector Tank
And again, a joyful event for me – visiting relative newcomers. I really love these moments, for the new is always interesting. There will be two devices at once for debriefing, but together they will not be implemented – then you will understand why. Looking ahead, I want to say that this manufacturer is found on well-known trading floors quite rarely, and in vain. Since to show them, as it turned out, there is something.

Dimensions: 87 x 49 x 25mm
Weight: 154g Case
material: zinc alloy + resin
Power: 2 x 18650
Output power: 5 – 200W
Voltage range: 1.0 – 7.5V Peak
current: 40A
Operating mode:POWER, TC (NI200, SS, TI), TCR, BYPASS
Temperature range: 200 ℉ – 600 ℉ / 100 ℃ – 315 ℃
Supported resistance: 0.08 – 3.0Ω
Protection: against low / high resistance, from overheating, from short circuit, reverse polarity, overcharge / overdischarge
Connector type: 510 steel, gold-plated pin, spring-loaded
Screen / diagonal: yes, color, 0.96 "
Micro-USB port / charge: yes, charging current 1.4A
Color: see photo below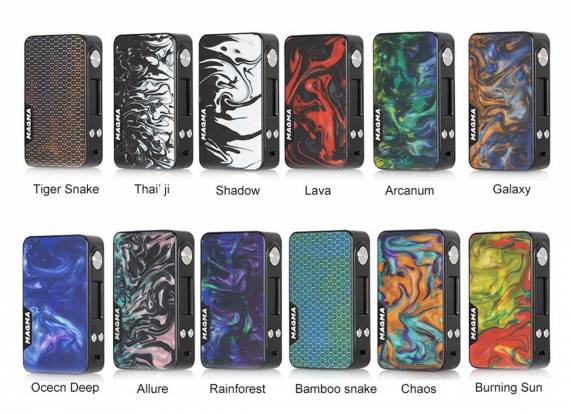 Options
– Magma Box mod
– USB cable
– user guide
– warranty card

Case material:stainless steel
Atomizer type: maintenance-free
Evaporators: 0.15 / 0.2Ω
Capacity: 5ml
Diameter: 25mm fit / 28.5mm maximum
Height: 56mm with drip type / 43mm without drip type
Connector: 510, pin gilded
Weight: 66g
Color: see photo below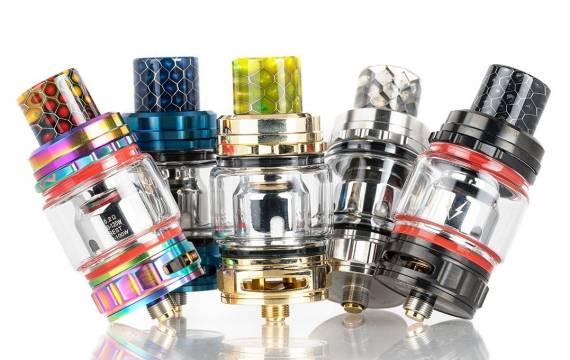 Options
– Vector Tank
– replaceable evaporators 2pcs 0.15 / 0.2Ω (one pre-installed)
– spare origins
– spare cover gasket
– spare glass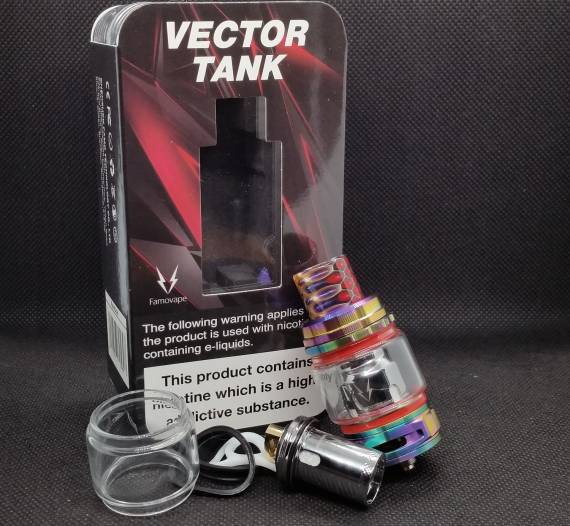 We start by tradition with non-service. The first thing I want to say about that is that the seal inside the box is terribly smelly – as if it were not necessary to soak replaceable evaporators before use. The appearance of the tank is the most ordinary – it is no better and no worse than its colleagues in the shop. The dimensions are decent, which on the one hand hints at the seriousness of intentions, and on the other, involves installing it on a fairly large mod. That is why the atomizer by no means fits with our second hero.

Drip type in the fashionable style of a honeikomb, the landing diameter is not the 810th, there are two orings on it. The cover is movable, the move is tight, a marker of the application of force is available. The filling hole is standard – you can operate with almost any spout. The capacity is almost impressive, there is no way to reduce it – spare glass is also a bubble of profile.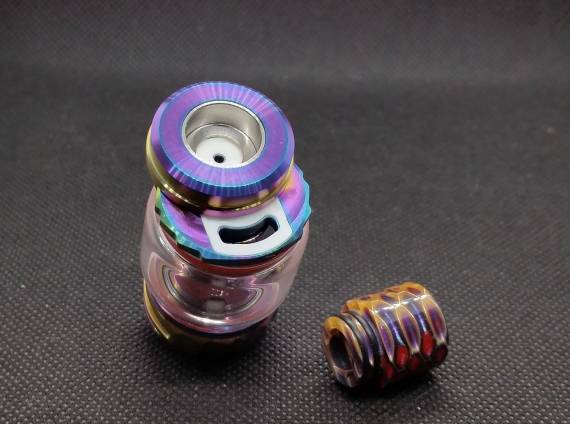 Replaceable evaporators in a box of two types, both giants on the grid. The taste transfer is probably slightly above the average for non-service, but still not the top, it is absolutely accurate. In part, I understand the motives of the developers to let the tank go into a separate voyage. Perhaps he will appeal to someone.

Airflow adjustment with standard swivel ring. Its course is very tight – this is where relief risks come in handy. The air intake holes are sooo big, so our hero piles quite decently. It is not difficult to guess that the puff turned out to be very loose – I covered it to the very minimum.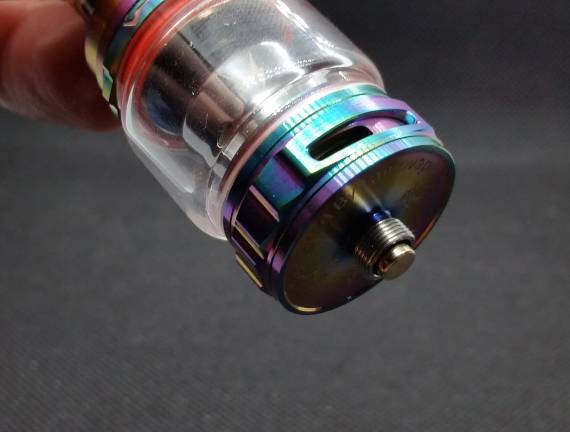 The price of $ 15, in general, is more than acceptable.
Now we turn to the tastiest. I liked the box mod when I still hadn't got it out of the box. The brick profile is neat, the corners are rounded, the profile is a little paunchy. There is no vulgar decor from the word at all. The whole sign in this regard was taken by the "nameplate" and resin inserts. In my case, the coloring of the latter is somewhat "vulgar", but the manufacturer offers such a variety of design that even eminent brands could not dream of (in the photo above there are far from all possible options).

Naturally, I can't keep silent about the dimensions, probably this is what bribed me the most. In height, our guest may not be the champion, but in width and thickness yet what. It is more compact, for example, than the new mix from Eleaf. For clarity, I compared it with a one-can colossal – the difference is only a little more than 5mm. In view of this, it is unnecessary to speak about ergonomics – it is worthy.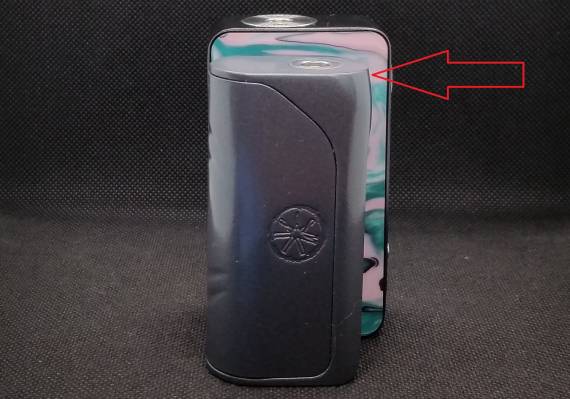 The landing pad is made of steel, since the edges are slightly sloping, you should not rely on the width of the mode when evaluating the maximum landing diameter. I would define an aesthetic maximum for 24mm.

There is one more point that you should know about. The landing site rises above the body quite a bit, but this is enough for micro levitation. This is difficult to show in the photo, and the eye is not particularly noticeable – or rather imperceptibly. But in the light, particularly picky "nerds" can detect this. I'll write down the cons, however, I don't see a problem for myself from the word at all, although I am picky in this regard.