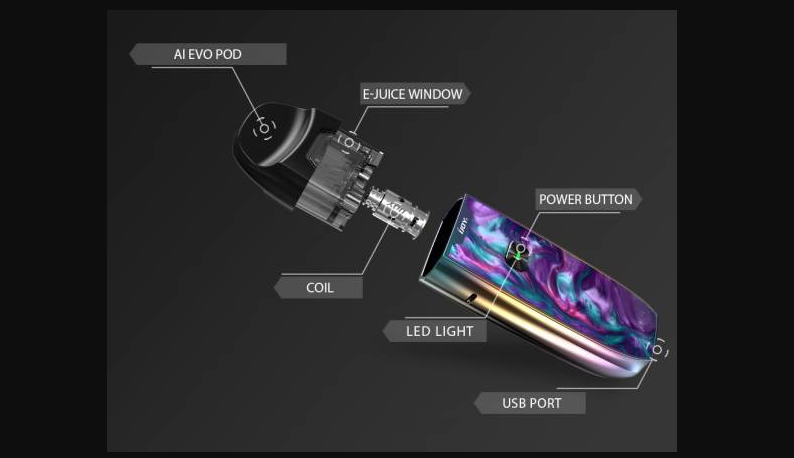 IJOY AI EVO kit – the successor to the shogun dynasty
IJOY AI EVO kit – the successor to the shogun dynasty
IJOY AI EVO kit – the successor to the shogun dynasty
Seamlessly move on to another manufacturer – IJOY is next in line. She also earnestly took advantage of the ongoing in the Celestial exhibition dedicated to vape topics and everything connected with it. They, like the Wupovites, did not limit themselves to just one novelty. Gradually, we will all learn more. I propose to start with a pretty nice device that has not bypassed innovative solutions.
IJOY AI EVO kit

Dimensions: 94 x 30 x 18mm
Weight: unknown
Case material: zinc alloy + stainless steel + resin
Power: built-in 1100mAh
Cartridge capacity: 2.8ml
Evaporator resistance: 0.7 / 1.4Ω
Output power: up to 20W
Voltage range: 3.3 – 4.2V
Operating mode: POWER
Protection: against low / high resistance, from overheating, from short circuit, from overcharge / overdischarge
Connector type: magnetic
Screen / diagonal: no
Micro-USB port / charging: yes, charging current unknown
Color: see photo below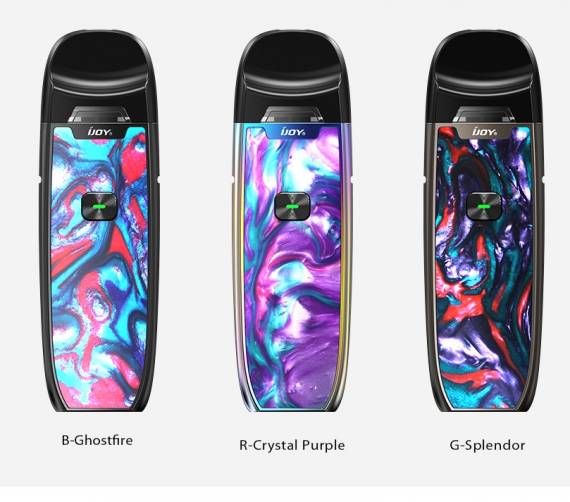 Options
– AI EVO mod
– replaceable cartridge (pre-installed)
– replaceable evaporator 2pcs 0.7 / 1.4Ω (first pre-installed)
– USB cable
– user manual
– warranty card
Our guest looks decent, neat, but thanks to resin inserts duplicated on both sides, he looks quite variegated, and for some it's even challenging. I hope you noticed that the outlines of this new product show the features of the latest flagship manufacturer – shogun. The same decor, the same edges tapering to the bottom with recesses.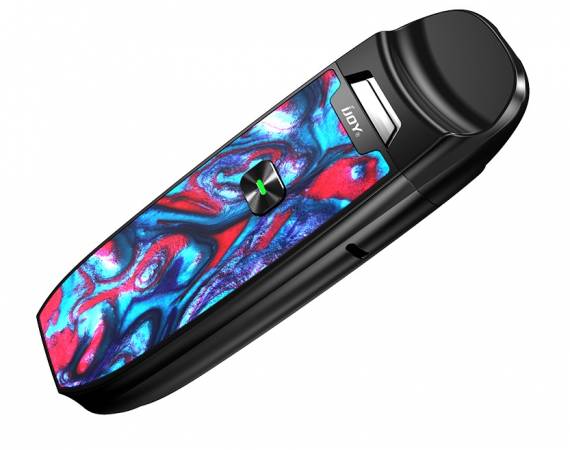 From the start, developers offer only three body colors, by the way metallic. And the pattern of the inserts also varies somewhat.

A removable cartridge of impressive capacity, it is fixed with a magnetic connector. The shape of the mouthpiece promises to be quite comfortable. It is generally unrealistic to track the liquid level in it.

Perhaps the most important innovation is the cartridge refill design. This is done from below – there is implemented a shaft with a spring-loaded lid. Press the nose of the bottle – it opens and can be poured. However, I have a logical question – where is the air outlet when refueling, and how and when does it open?

As replaceable evaporators, two types of coils are presented – the first on a grid, the second on a familiar spiral.
Naturally, the first is designed for liquid with ordinary nicotine, and the second with salt. Adjustment of a tightening at the same time, as I understood, is not provided.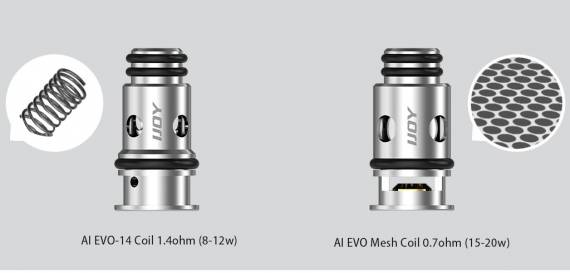 The main body, although not large in itself, fit in its womb a very decent built-in battery in terms of capacity. At the same time, the charging current wished to remain unknown, most likely, a full charge cycle will not take more than an hour. A connector for these purposes at the bottom of the device.

The fire button is quite large, it is located on the most "frontal" place. An LED indicator is built into it, which will predict you the remaining energy in your device.