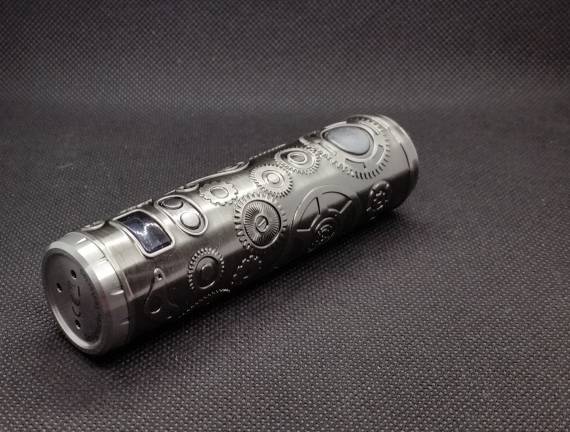 Teslacigs Punk 86W
Teslacigs Punk 86W
Teslacigs Punk 86W
One busy thing got here to me. It was interesting to touch it, because the creations of Teslacigs are quite good quality and, moreover, are very inexpensive. With hope for the best, I set about.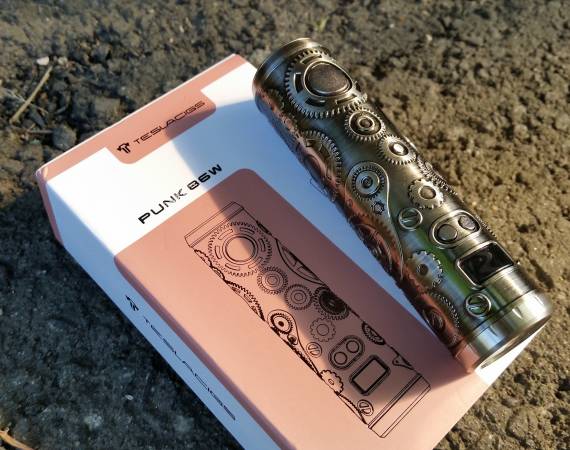 Dimensions: 104 x 28mm
Weight: 120g
Case material: brass + stainless steel
Power: 1 x 18650
Output power: 7 – 86W
Voltage range: up to 8.5V Peak
current: 30A
Operating mode: POWER, BYPASS
Supported resistance: 0.1 – 3.0Ω
Protection:low / high resistance, overheating, short circuit, reverse polarity, overcharge / overdischarge
Connector type: steel 510, gold-plated pin, spring loaded
Screen / diagonal: yes, 0.49 "
Micro-USB port / charge: yes, charging current 1A
Color: see photo below

Package
Contents – Punk 86W mod
– USB cable
– user manual
– certificate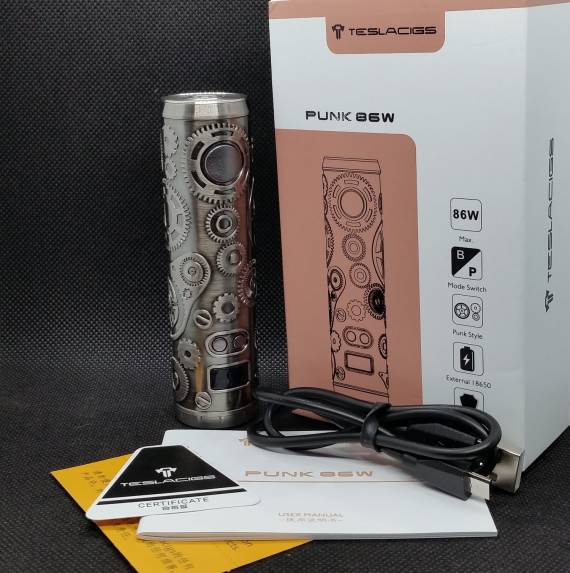 Appearance is a rather controversial thing, this instance is clearly imprisoned for lovers of the steam punk style, however, like the previous version with two batteries. If you ignore it, everything looks pretty decent – gears, different details – pretty, extraordinary. I, not being a fan of such decoration, took this whole decor quite calmly.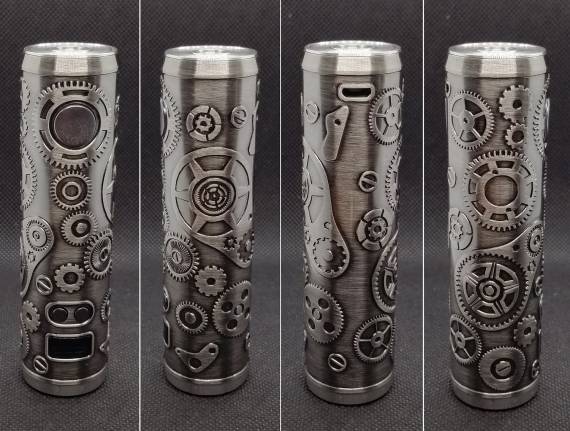 The landing pad is steel, while the pipe itself is made of brass, according to the developers. It has a groove from "sticking", the maximum aesthetic fit is provided for atoms of almost 26 mm in diameter. This is a rather strange decision, probably due to the construct – not otherwise.

The control panel is framed quite neatly, organically fitting into the overall picture of the decoration. Let's start from the bottom – the display is quite bright, naturally small. Plus, due to the roundness of the plastic "glass", there is an increase effect – as for me, this does not look very good. The control keys are small, but it's convenient to use them.

Separately, I want to say about the fire button, because for me it has become the biggest disappointment. Firstly, I came across a copy with a "marriage" – you see these two dark dots in the photo below. In fact, they are much more contrasted than in the picture. Well, this is only half the trouble. The second "minus" for me was the material of execution – this is plastic. Well, like that – steam punk, metal, gears and a plastic button (The third fact is that it decently plays, since it is plastic))) and this is not very audible. The fourth claim – uneven pressing – if you push to the top, then it may not work. So it happened to me infrequently, but still the fact remains. The button move is small, the click is clear.