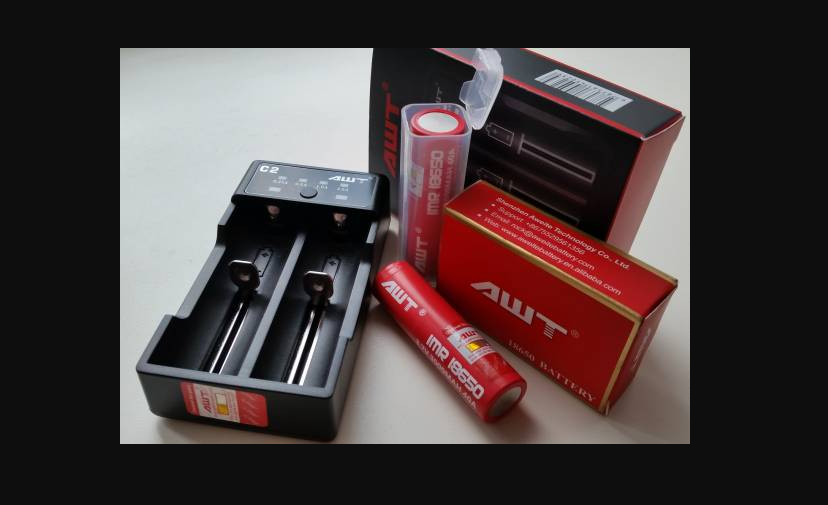 AWT IMR 18650 Battery and AWT C2-2A USB Charger
AWT IMR 18650 Battery and AWT C2-2A USB Charger
AWT IMR 18650 Battery and AWT C2-2A USB Charger
Today I will try to quickly share with you my impressions of the products I received not so long ago from AWT. Everyone has a different attitude to this brand – someone does not trust, while others use it and, in principle, can't say anything bad. Let's start with what is more or less known to the consumer.
Naturally, my opus is based only on personal impressions. In electrical matters, I consider myself a layman and of course I can't put any experiments.

AWT IMR 18650 Battery
Size: 18650
"Type": Li-ion
Physical dimensions: 18.2 x 65.1 mm
Weight: 46.5 g
Output current (declared): 40A
Capacity (declared): </: 3000mAh Package contents

– 2pcs battery – 2pcs
plastic case on the latch
– cardboard packing box

The batteries are made quite neatly – heat shrink without wrinkles, trimmed normally. The film itself is quite dense, does not suffer from contact with contacts (sorry for the tautology). On the body, a print with the most necessary information, by the way, I did not find the batch number. It is possible this is done by barcode. There is also a sticker confirming the originality of the product. Everything is packed decently – I especially liked the tubes for batteries. I think these are definitely useful.

The only visual complaint is that the positive contact is set deep – slightly below the heat shrink. This can subsequently cause damage to the latter, but this has not happened during the almost two-month operation.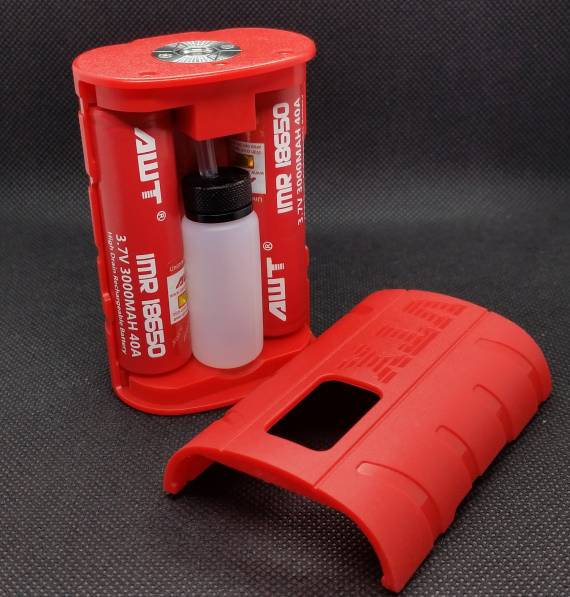 The results of my hobby tests confirmed the declared capacity, even with a small margin.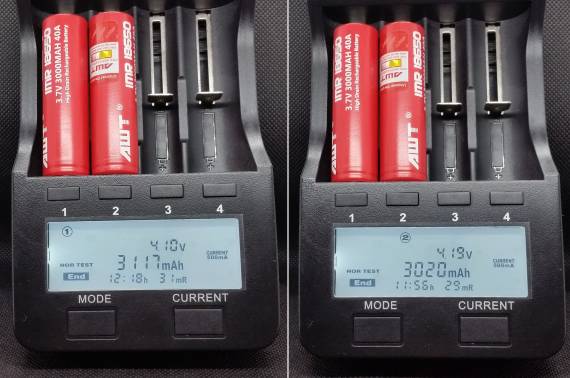 As a standard layman, for the rest of the details, I went to the battery guru Mooch. An article on these instances began with the words "enough is enough, just don't buy it". I think this phrase does not need a translation.
He defines their rating as 15A with a capacity of 3000mAh, also states that this is a banal repack Samsung 30Q. Yes, a very low level of output current, well, at least this is not a peak indicator, as I understand it. If you are interested in the details, you can find them here .
Impressions of use
Yes, these guys do not tear from a place with a slip, however, for MTL soaring, they are quite satisfied with me. It seems that Much got a little excited with the name) According to my feelings in regulated boxing mods, they are similar to chocolates, maybe a little worse. But in mechanics, they showed themselves far from the best side – it is understandable that Much's tests damage it. Therefore, I can probably recommend them only to not particularly "appetizing" windings. However, the price tags that I came across would probably completely discourage you from trying them out. Quite possibly, I again clumsily monitored the market, if you find less, tell me. Just pay attention to the labeling, because it looks like the manufacturer has several designed batteries.
Price for a pair of $ 14.6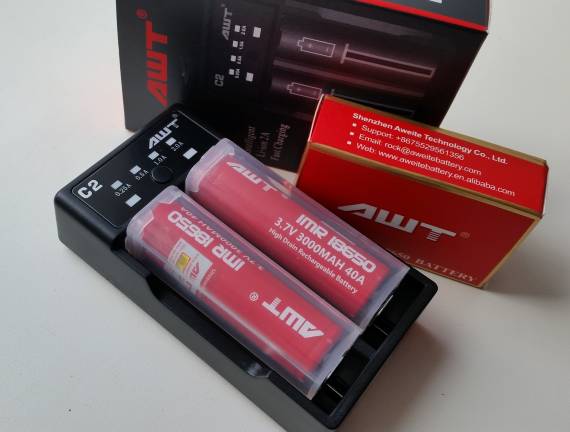 AWT C2-2A USB Charger
Dimensions: 109.5 x 60 x 28mm
Weight:62g Case
material: plastic
Number of slots: 2
"Input": 5V DC
"Output": 0.25A * 2 slots / 0.5A * 2 slots / 1A * 2 slots / 2A * 1 slots
Supported batteries: 14500, 14650, 1634, 16650 , 17650, 17670, 18350, 18490, 18500, 18650, 20700, 21700, 22650, 26500, 26650
Protection: against overheating, short circuit, reverse polarity, overcharge
Screen / diagonal: no
USBmicro port / Power Bank function: yes / no
Color: black
Options
– charger – charging
cable
– cardboard box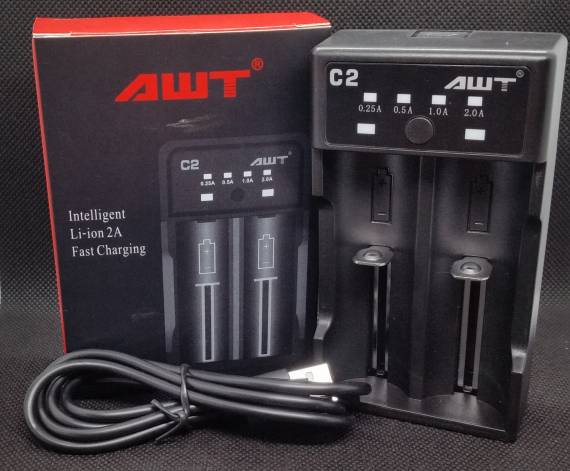 Completed memory in principle is normal – without blemish, backlash and other indecency. It looks a little cheap – the reason is not really "luxury" plastic (by the way, not sharp) and the design of the control panel. However, you do not wear it in people, therefore, I reacted to this moment quite calmly.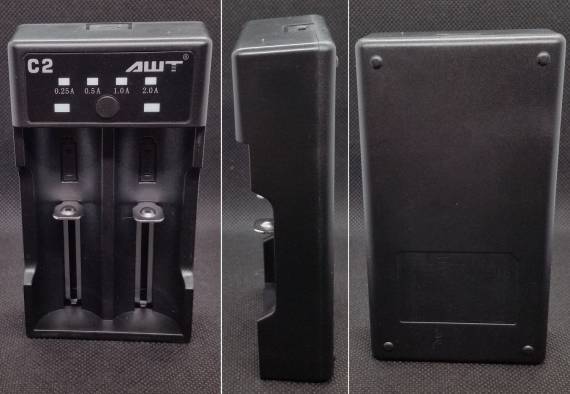 The dimensions for the charger with two slots are normal. It supports many, including the most popular, standard sizes of batteries. By the way, two 21700 feel quite comfortable in the neighborhood. Cutouts for easy removal are available.

There is no power supply in the kit, thanks at least the developers provided for the cord. The connector for these purposes, the developers have identified on the front end. The contact plates are tightly spring-loaded – the batteries do not hang out and do not even fall out if the charger is turned upside down. By the way, the latter are made in the form of simple plastic bubbles.

The control panel avoided the presence of a display, but got multi-colored indicators and a button for switching the charging current. Single-channel device – the selected current strength is identical for each of the slots. So you can select the modes presented on the panel, plus there is the ability to quickly charge only one battery with a current of 2A. The results of my philistine verification confirmed all these figures. The only remark is that when you stick in two banks, the current draws a little – approximately 0.05 – 0.1A from the declared one.

Impressions of use
Absolutely normal memory, though not looking so cute. But its appearance, it seems to me, more than pays for a completely low price tag. It was executed normally, it proved to be worthy in work, and on board there is 0some, but functional. So those who do not need a display and a bunch of "useless" information, as well as the "expensive" function of the power bank – are welcome.